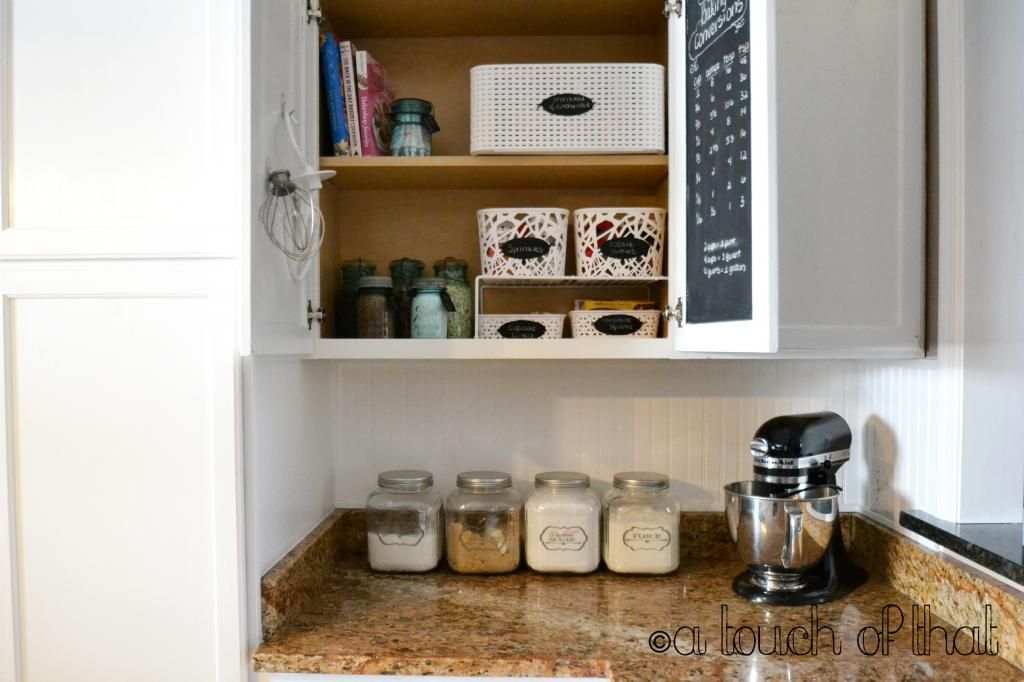 Hey all! I hope you had a great weekend. My hubs surprised me and started framing our laundry room in the basement. I am so excited because I finally get my long awaited croffice (craft room/office) and the project looks to be going pretty smoothly! He finished rerouting the plumbing last night so it's all in a matter of time before I can share it with you. While he was working on framing, I was finishing up my cabinets for my baking pantry. When I last talked about it, this is what my cabinet was looking like: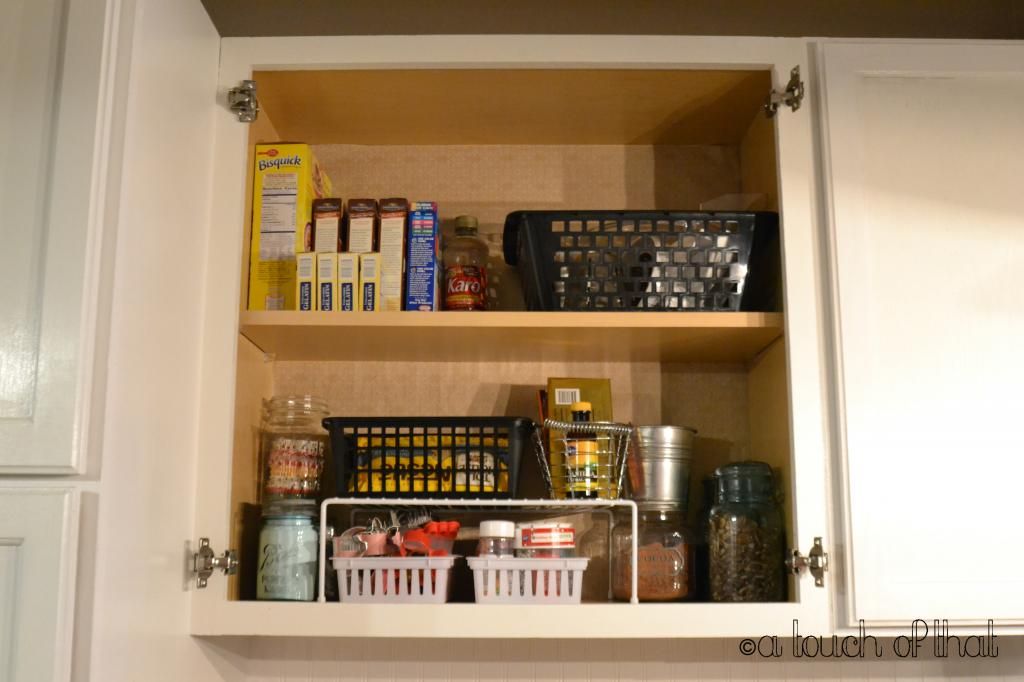 It wasn't too bad, but I didn't like the layout or the mix matched baskets. Also, my cabinet doors needed to be repainted which is why you see them off in the photo! After spending the weekend searching for matching baskets to no avail, I grabbed what I could from Target and pulled it all together.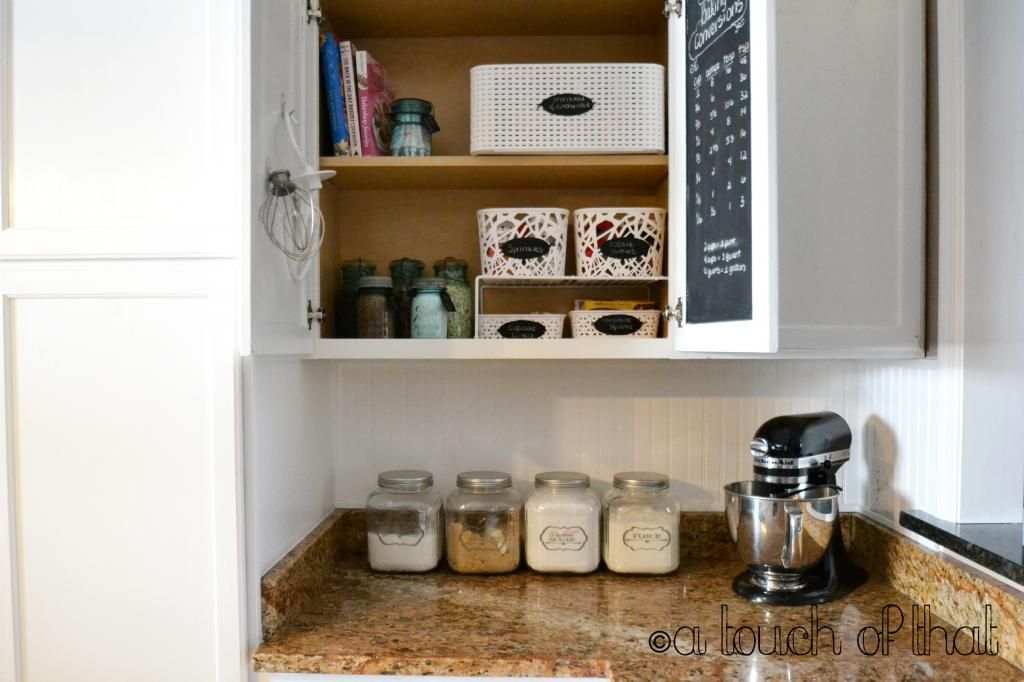 I love love love it! I am so happy I got this organized. Eventually when Target decides to restock, I am going to buy two baskets to replace the large one on the top shelf. Those match the baskets in the middle and are smaller so it would fit better in the space. It looks so simple and bare but there is actually everything I need to bake something from scratch which is nice. In my last post, I forgot to share with you my jars on the counter.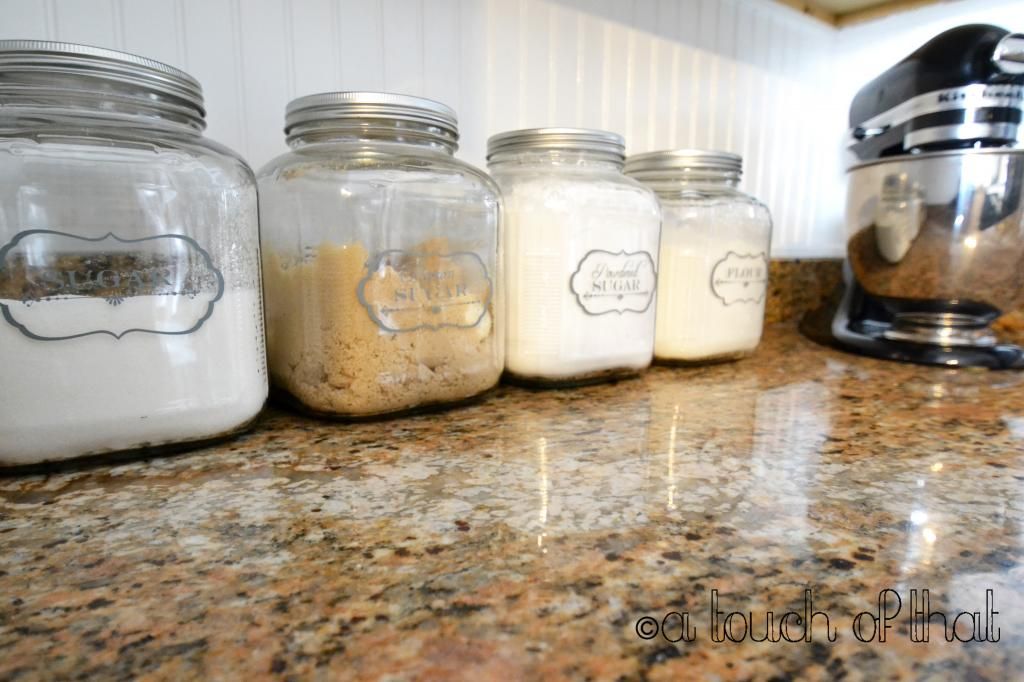 I took large cookie jars from *ahem*, Target... and created my own labels from vinyl and my Silhouette Cameo. It was a little tedious because I couldn't find my transfer tape and the font made the letters very delicate. I love the wide mouth of these jars because it is easier to get a measurement out of it. Oh and I keep marshmallows in my brown sugar to keep it soft. It really works!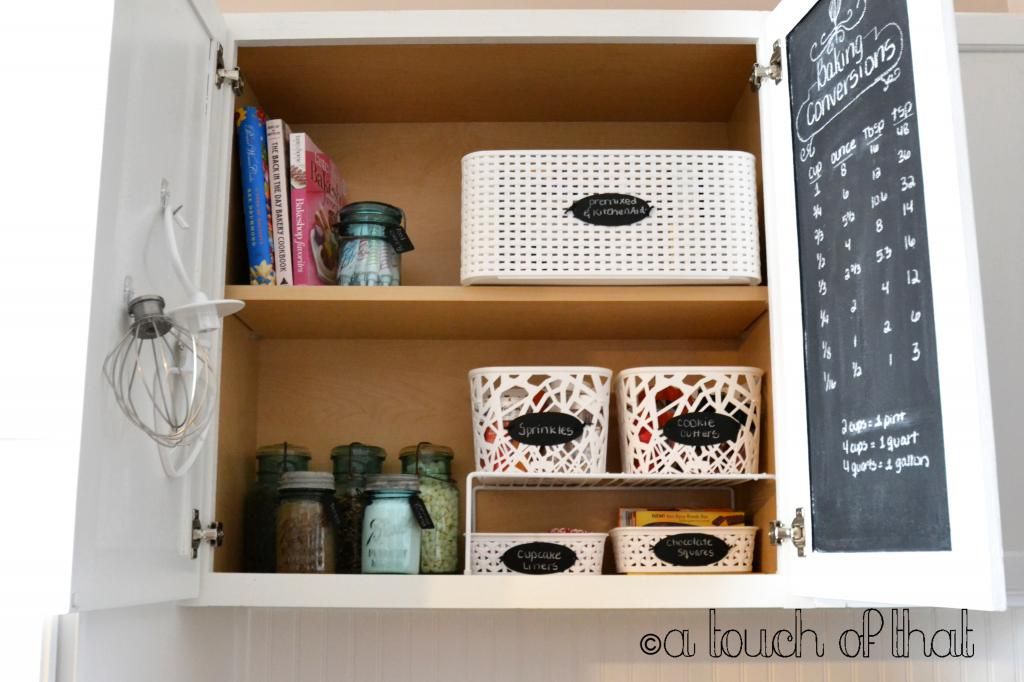 I keep my premixed items and my KitchenAid slicer/shredder attachment in the big basket on the top shelf. I also have my cookbooks (I use Pinterest mostly) and my food coloring on the opposite side. On the bottom shelf I have my sprinkles, cookie cutters, cupcake liners and baking squares in the baskets. My mason jars house white chocolate chips, semi-sweet chips, pecans, baking powder and Hershey's cocoa. I am very happy to have everything in one cabinet neatly organized!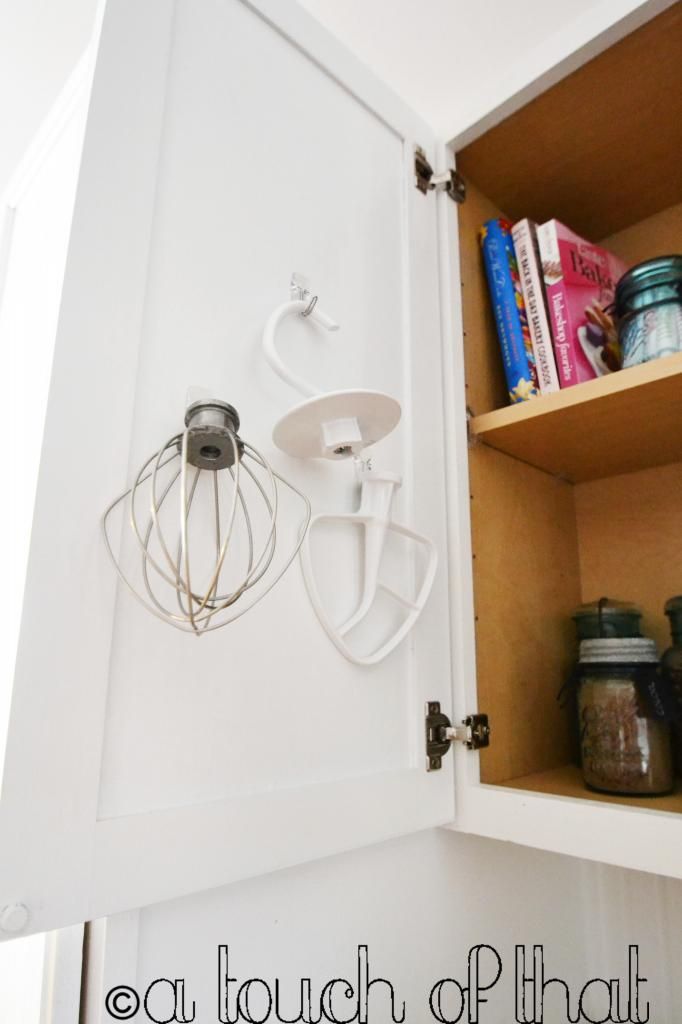 I used command hooks to hang up my mixing attachments. I'm not sure how I like it yet on the door. We will see!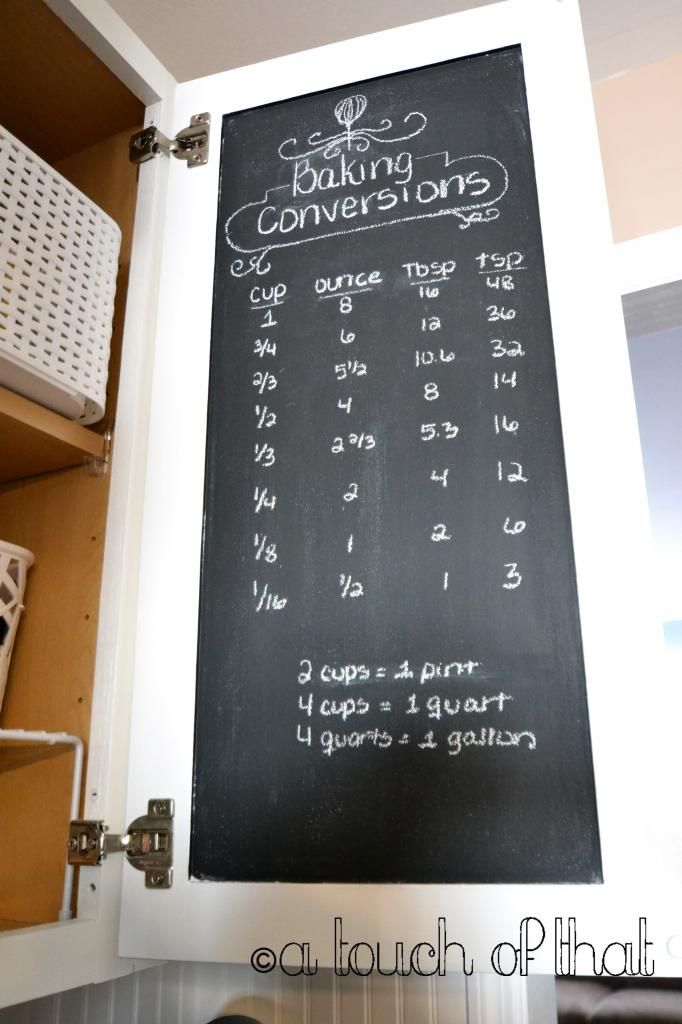 I'm a big fan of the chalkboard. It needs a little bit of touching up but for the most part, this is what it will display. I took the design from two pins on Pinterest. Original source for the conversion
here
. I can't find the pin where I saw the title and scrolls. I'll be sure to link to it when I do!
That my friends is my new baking pantry! How about a before and after?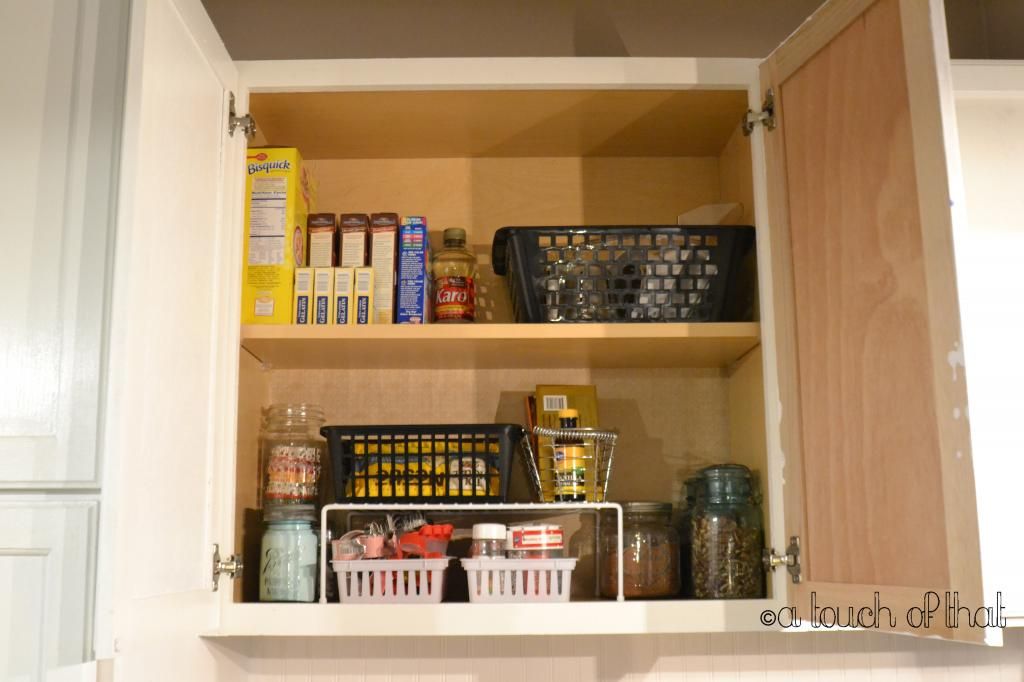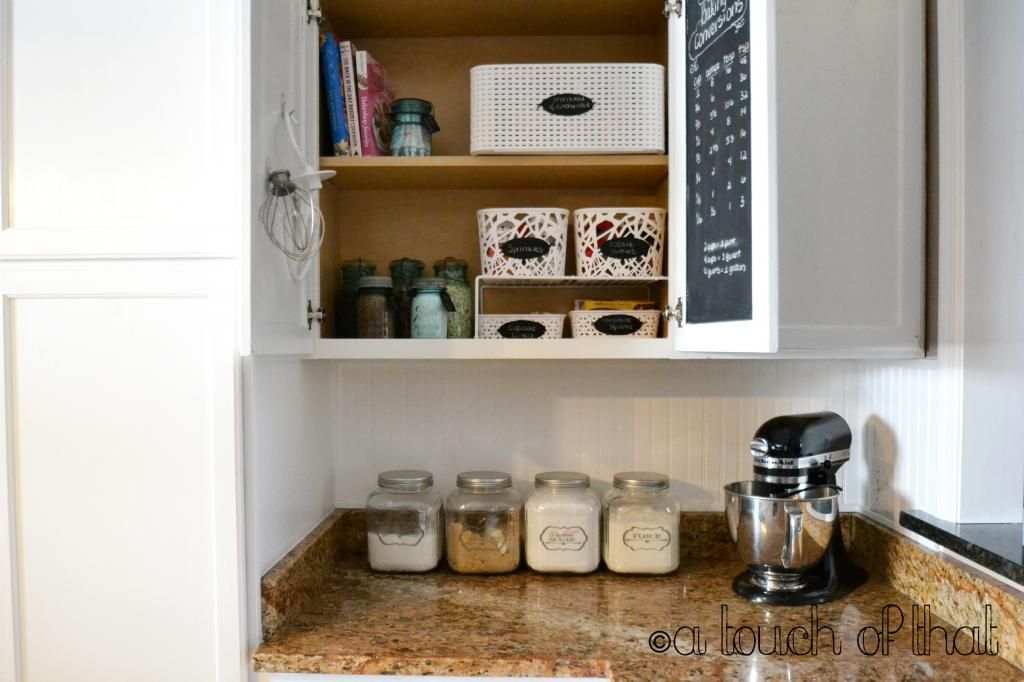 So much better right!? Now, I need to reload my motivation to attack the main pantry to the left, and the snack cabinet to the right. It is not a chore I am looking forward too! I will share that when it happens.
Thanks for visiting!
Amanda
Linking up: